Rome, Italy – 24 October 2022 -
SecurityGen
, the global provider of security solutions and services for the telecoms industry, announced that it has been named
"High Flyer"
by Kaleido Intelligence in its latest
Roaming Vendor Hub -2022.
SecurityGen's robust IDP (Inspection, Detection, Protection) Platform, which forms the core of its solution offerings was assessed and recognised as a
"High Flyer"
in the Fraud Management & Security category based on a detailed competitive intelligence conducted of the product capabilities out of more than 40 vendors that were evaluated.  SecurityGen's ranking was determined by detailed analysis conducted by Kaleido analysts around product leadership, identifying companies' unique market positioning, problem-solving capabilities, innovation leadership, and finally, how vendors are positioned to meet MNO/MVNO needs and requirements. Below is what the Kaleido Intelligence team had to say about their analysis.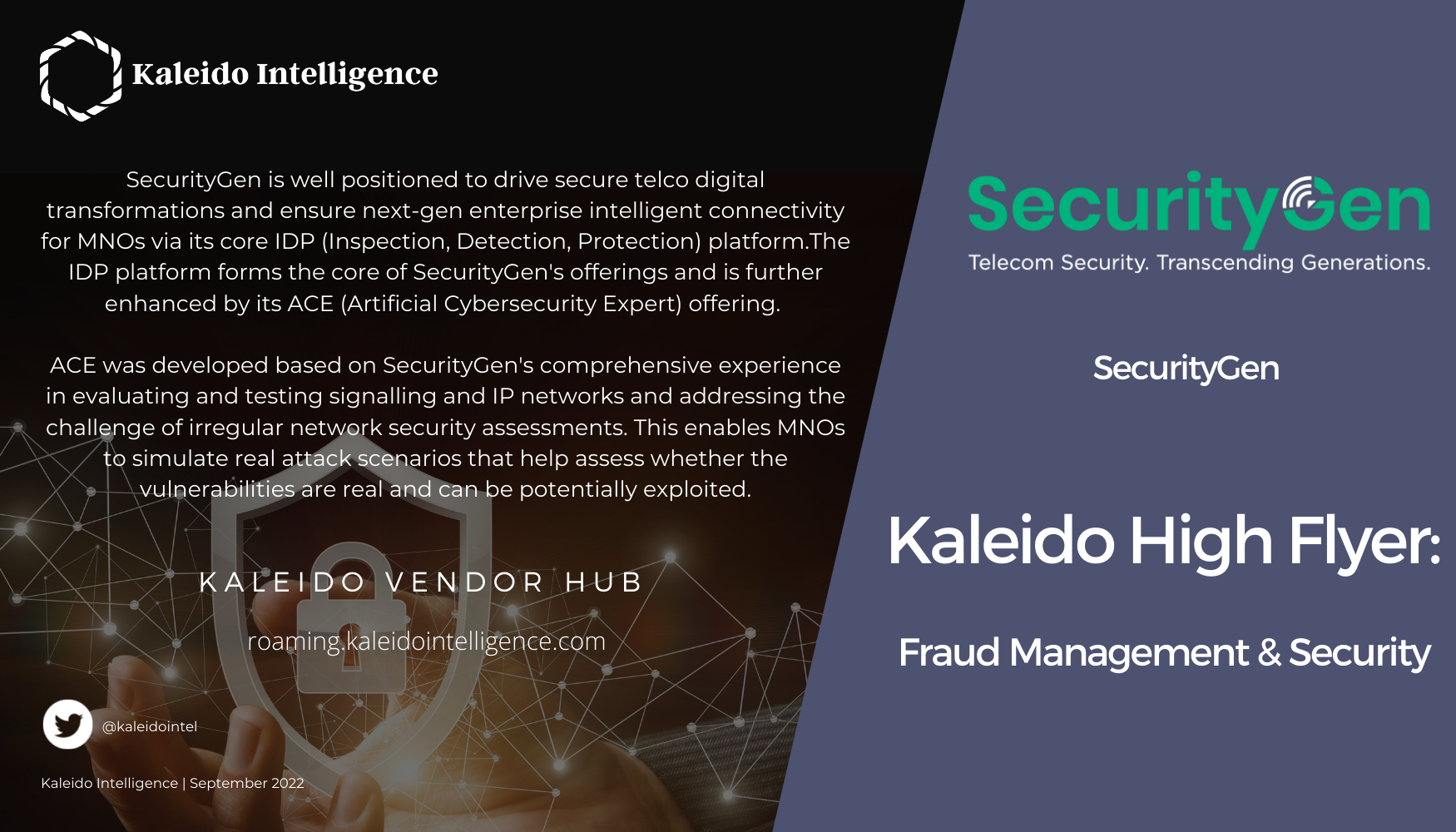 Nitin Bhas, Chief of Strategy & Insights at Kaleido Intelligence commented, "As per Kaleido's product assessment, SecurityGen is well positioned to drive secure telco digital transformations and ensure secure network connections for MNOs via its core IDP platform. The IDP platform and its ACE offering demonstrate the company's comprehensive experience in evaluating and testing signalling and IP networks. Simulating real attack scenarios to understand vulnerabilities and addressing the challenge of irregular network security assessments makes it a very attractive proposition for mobile operators".
SecurityGen IDP Platform
Our core IDP (Inspection, Detection, Protection) based platform has been designed to ensure comprehensive protection to network owners against sophisticated attacks. This platform encompasses solutions that cover the Inspection, Detection and Protection functions, thus helping the MNOs guard against existing and advanced network security threats from the expanded 5G ecosystem. The IDP platform is focused on assessing, detecting and actively preventing attacks on MNOs that may come from International or National Roaming interconnection across Voice calls, SMS, Internet, A2P SMS grey route detection, Billing bypass, Location and other data disclosure, DoS of network and subscribers to name a few.
On receiving this validation Dmitry Kurbatov, co-founder and CTO, SecurityGen "We are proud and delighted to be recognised as a High Flyer Fraud Management & Security vendor by the Kaleido Intelligence panel of analysts. This recognition is a validation of our strategic direction and vision of harnessing the power of research to spot new vulnerabilities and design new and better ways to ensure secure telco transformations. "Our core solution platform – the IDP platform is centered on ensuring proactive security posture for MNOs through continuous assessments, real-time monitoring and protective remediation backed by our extensive knowledge base and deep industry expertise."
The
 Roaming Vendor Hub -2022 
research analysed 41 leading roaming vendors and wholesale providers over. It includes an in-depth assessment of the service offerings and updated Kaleido Scores for all companies. In this latest Roaming Vendor Hub research which conducted over a 4 month period , providing the most up-to-date rankings and scores for mobile roaming vendors and service providers across 7 different product categories.
teering of Roaming


Sponsored Roaming


Roaming Hubs


IPX


Data & Financial Clearing


Roaming Analytics & Value Added Services


Fraud Management & Security
About Kaleido Intelligence
Kaleido Intelligence is a specialist consulting and market research firm with a proven track record, delivering telecom research at the highest level. Kaleido Intelligence is the only research company addressing mobile roaming in its entirety, covering:
Data Forecasts by Market


Historical & Forecast Viewpoints


Competitive Intelligence


Strategic Insight


Trend Analysis
About Pipeline
Pipeline is the world's leading global publication that distributes rich multimedia content and produces programs, content, events, and activities that help service providers and enterprises make informed technology decisions. Pipeline has become the epicenter of industry and technical innovation, has well over 300,000 in annual global circulation, and is read by every major operator and enterprise in more than 150 countries. Pipeline is also read by premier global organization spanning the world's top universities, government agencies, and financial institutions. Through its rich content, engaging programs, global platform, and worldwide distribution Pipeline connects the world's leading technical innovators with those that leverage advanced technology to transform the way we connect as a global society. For the latest content, go to and subscribe today
www.pipelinepub.com
and
subscribe to Pipeline today.
About SecurityGen
Founded in 2022, SecurityGen is a global company focused on telecom security. We deliver a solid security foundation to drive secure telecom digital transformations and ensure safe and robust network operations. Our extensive product and service portfolio provides complete protection against existing and advanced telecom security threats.
www.secgen.com
Media Contacts